Italian Biscotti Recipe

Almond Biscotti


The Italian biscotti cookie is one of the authentic Italian desserts, oftentimes served with a cup of coffee. when family or friends visit. Biscotti also make an excellent gift for the holidays and other special occasions.

Ingredients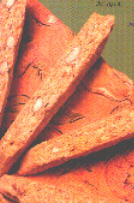 3/4 cup butter (3 cubes)
1 cup sugar
3 eggs
3 cups flour
2 teaspoons vanilla extract
1 teaspoons anise extract
1 tablespoons whole anise seed
3 3/4 teaspoons baking powder
1 cup chopped Almonds (can substitute with Walnuts)
Preparation

Using low heat, soften butter in a small sauce pan. Then pour into a mixing bowl, add sugar and beat with mixer on low speed 30 seconds, then on medium speed for 2 to 3 minutes or till butter begins to cream slightly. To this mixture, add the eggs, vanilla, the anise extract and continue beating on low speed for about 30 seconds. In another bowl combine flour, baking powder, chopped nuts and the anise seed. Add this to the cream mixture and mix in with a heavy wooden spoon. When dough becomes quite stiff, place on a floured surface and knead gently until smooth, The dough will be sticky at first so have a little extra flour handy. Divide and form dough into 2 or 3 long thin rolls. (They will look somewhat like a elongated loaf of french bread, except smaller.) Place rolls on a ungreased baking pan or cookie sheet and bake at 350 degrees 15 to 20 minutes, or till light brown.

Remove from oven, let cool slightly and with a sharp knife cut diagonally into 1/2 to 3/4 inch slices. Put back in oven and bake an additional 10 to 15 minutes or till lightly toasted. You want the biscotti to dry slightly.

Notes:

For an adult snack you can add an ounce of rum and/or brandy to this recipe. In doing so, increase the amount of flour slightly.

.
---


email | Index | Cookware & Bakeware Store | Canning & Preserving
Recipe Software | Cookbooks | Italian Recipe Index




© Copyright cooking-italian-food.com/ Italian biscotti recipe 1997-2008